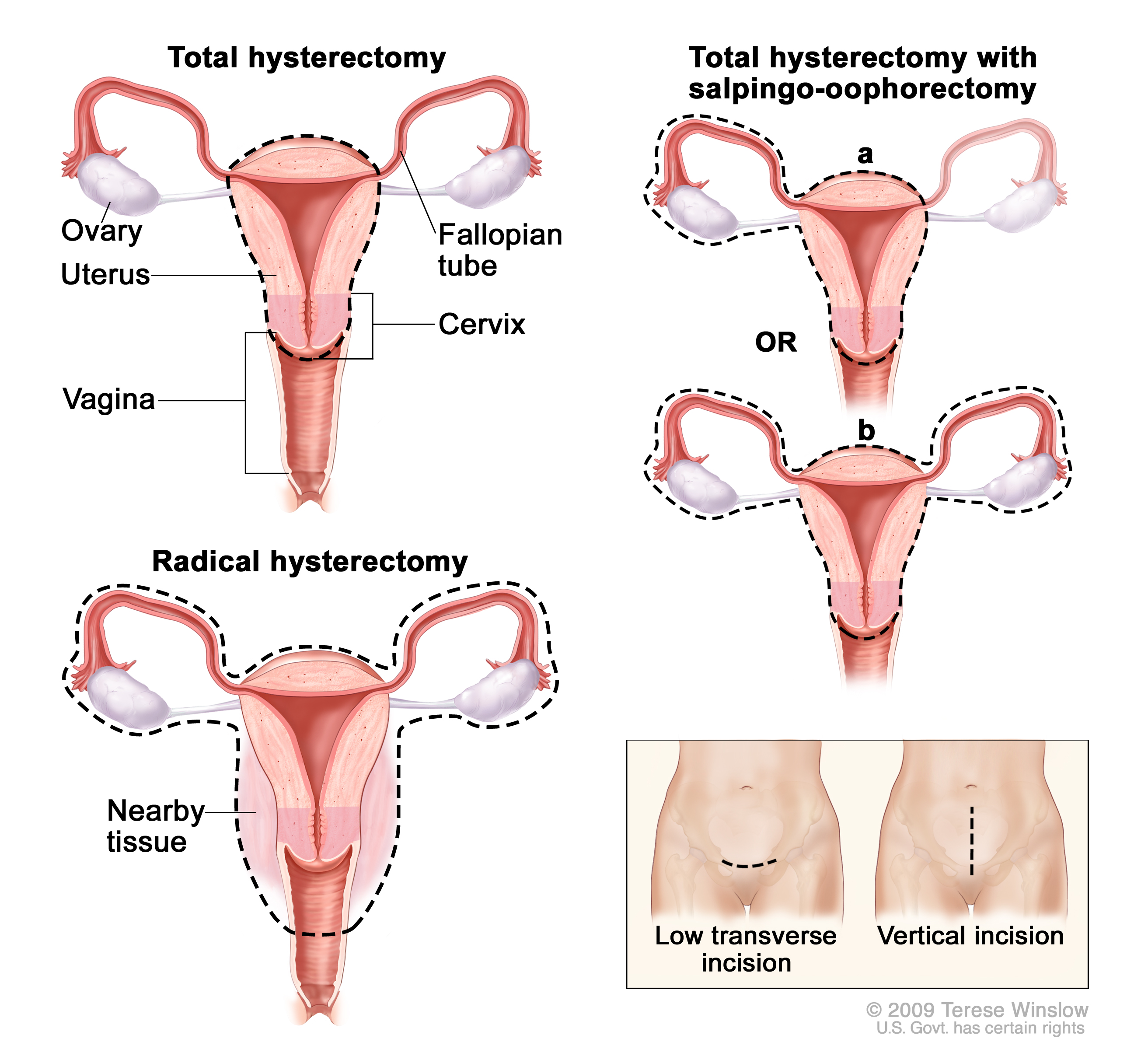 Hysterectomy is the surgical removal of the uterus. It may also involve removal of the cervix, ovaries, fallopian tubes and other surrounding structures.
Usually performed by a gynecologist, hysterectomy may be total (removing the body, fundus, and cervix of the uterus; often called "complete") or partial (removal of the uterine body while leaving the cervix intact; also called "supracervical").
It is the most commonly performed gynecological surgical procedure. In 2003, over 600,000 hysterectomies were performed in the United States alone, of which over 90% were performed for benign conditions. Such rates being highest in the industrialized world has led to the major controversy that hysterectomies are being largely performed for unwarranted and unnecessary reasons.
Removal of the uterus renders the patient unable to bear children (as does removal of ovaries and fallopian tubes) and has surgical risks as well as long-term effects, so the surgery is normally recommended when other treatment options are not available or have failed. It is expected that the frequency of hysterectomies for non-malignant indications will fall as there are good alternatives in many cases.
Oophorectomy (removal of ovaries) is frequently done together with hysterectomy to decrease the risk of ovarian cancer. However, recent studies have shown that prophylactic oophorectomy without an urgent medical indication decreases a woman's long-term survival rates substantially and has other serious adverse effects. This effect is not limited to premenopausal women; even women who have already entered menopause were shown to have experienced a decrease in long-term survivability post-oophorectomy.
Medical uses
Certain types of reproductive system cancers (uterine, cervical, ovarian, endometrium) or tumors, including uterine fibroids that do not respond to more conservative treatment options.
Severe and intractable endometriosis (growth of the uterine lining outside the uterine cavity) and/or adenomyosis (a form of endometriosis, where the uterine lining has grown into and sometimes through the uterine wall musculature), after pharmaceutical or other surgical options have been exhausted.
Chronic pelvic pain, after pharmaceutical or other surgical options have been exhausted.
Postpartum to remove either a severe case of placenta praevia (a placenta that has either formed over or inside the birth canal) or placenta percreta (a placenta that has grown into and through the wall of the uterus to attach itself to other organs), as well as a last resort in case of excessive obstetrical haemorrhage.
Several forms of vaginal prolapse.
Women may also express a desire to undergo an elective hysterectomy—that is, a hysterectomy for reasons other than the resolution of reproductive system conditions or illnesses. Some of the conditions under which a person may request to have a hysterectomy (or have one requested for her if the woman is incapable of making the request) for non-illness reasons include:
Prophylaxis against certain reproductive system cancers, especially if there is a strong family history of reproductive system cancers (especially breast cancer in conjunction with BRCA1 or BRCA2 mutation), or as part of recovery from such cancers.
Part of overall gender transition for trans men.
Severe developmental disabilities, though this treatment is controversial at best. In the United States, specific cases of sterilization due to developmental disabilities have been found by state-level Supreme Courts to violate the patient's constitutional and common law rights.